Banklands Quarry, Bail Hill, Mickleton
Est 1970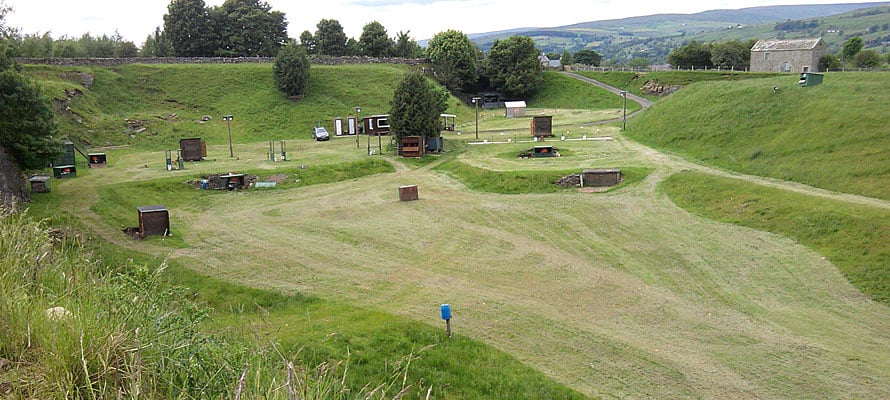 Clay pigeon shooting in the Teesdale area became popular in the late 1960's a favourable sport for many country enthusiasts who enjoy the social and competitive aspect of target shooting, seen by many as great practice in preparation for the Game season.
In 1970 Teesdale Gun Club was born as you see it today at Banklands Quarry, directed by Mr R.R. Brown with a strong committee behind him. Sir Joseph Nickerson from Wemmergill estate became president along with F.E.Wilkinson a local Gun dealer as Chair. Continuous running of the club in the early 1970's was supported by Mr & Mrs Matless, Mr & Mrs Hinchcliff, Mr & Mrs Parr and Mrs Jenny Watson.
1979 brought the Club's future a more permanent home at Banklands, local interested parties Mr Robert Oliver, Mr Barry Hutchinson and Mr F E Wilkinson became shared owners of the land with the original quarry owners and enthusiasts Mr & Mrs Walton.
Banklands Quarry, a lime stone quarry in its hay day required hours of landscaping to make it the shooting ground you see today, Sir Joseph Nickerson supported this by installing his Head Keeper at the time Mr John Grave with the task of moving tones of top soil to make the quarry bottom as level as possible and suitable for the DTL and SPORTING disciplines.
As generations moved on, more and more local families and land owners became involved with the popular sport. The 1990's saw a change in committee, still lead by F. E. Wilkinson as chair backed by Lord Strathmoore as president and supported by treasurer/secretary Mrs Caroline Christon and Mr Michael Corner. The club continued to go from strength to strength, 2001 saw local retired engineer Mr E C McFarlane become treasurer a dedicated member for the Clubs future.
As years move on and committees come and go 2010 became the time for longstanding chair Mr F. E Wilkinson to take a back seat and support the clubs continuity from the background, sharing his wealth of knowledge in clay pigeon shooting and supporting weekly shoots on a social basis, until he sadly died in 2017, his successor Mr Nigel Mitchell would become the clubs new chair with the same enthusiasm for the clubs future. A strong committee was formed, all dedicating hours of voluntary labour bringing the ground up to date. Lord Strathmoore remains President supported by Hon. Vice President Mr C Oughtred of Birkdale Moor. Weekly meets continue to thrive with the competitiveness between shooters thriving to win one of the many trophies and have their names inscribed into the history of this popular club. The ground continues to be host to the annual Holwick and District game keepers clay pigeon shoot along with supporting many local charities. The club remains an asset for Teesdale and the community, still to this day being supported by Sir Joseph Nickerson's Family.